A private opening event was held in Belstaff' store, ahead of the public opening on the 20th April. The store holds the first offering of the women's line in Tokyo and the first complete offering of menswear from the brand. This follows Belstaff's launch into the Japanese market in 2016, with retail spaces opened in Matsuzakaya Nagoya, Isetan Tokyo and Kobe.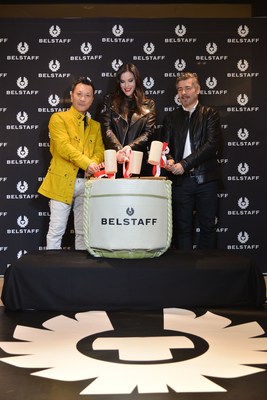 The opening of a flagship in Tokyo showcases the brand's development in Japan and its continued international expansion and dedication to retail. Global Ambassador and Hollywood A-lister Liv Tyler joined press and guests for the opening. Liv has co-designed and produced two collections for Belstaff, and her latest Spring Summer 17 offering will be available in Ginza Six.
The flagship launches in the same month Belstaff exhibits its first Archive exhibition, 'Hollywood Legends' in the iconic Daikanyama Tsutaya bookstore. This is a celebration of Belstaff's iconic design which influenced many Hollywood films, including: 'The Aviator' starring Leonardo DiCaprio, 'Ironman', 'Dark Knight, 'I am Legend', 'Twilight' etc.
The Tokyo store itself will offer an exclusive 'Ginza Capsule' collection of lighter weight pieces and the first eyewear collection from the brand, all hand made with the finest materials in Japan. The 100sm store is the second biggest retail space in Asia, after Macau, and the biggest retail launch since the flagship in New Bond Street, London.
SEE ALSO: Fendi opens new Tokyo flagship
Gavin Haig, Belstaff CEO said: "Ginza Six, our fourth opening in Japan, shows our fast and strategic expansion in this important market. The Japanese influence on fashion and style can be felt globally, which is why we selected this great country as a key pillar market for Belstaff. The Japanese appreciation and appetite for modern heritage is key to our success here. We are also a brand that continues to innovate, with functionality as important as style. Our successful launch of the ongoing partnership with SOPHNET, showcased a more street style influenced collection, which is synonymous with Tokyo, and was well received all over the world."