Ralph Lauren abruptly announced that Chief Executive Officer Stefan Larsson will be leaving after a creative clash with the fashion brand's founder, sending shares of the struggling company into a tailspin.
Larsson, who previously ran Gap's Old Navy, will be departing Ralph Lauren on May 1 after less than two years on the job, the company said on Thursday. Larsson will get $10 million in cash severance and health benefits over the next two years.
Larsson took over from Ralph Lauren as CEO in November 2015, while the namesake founder remained executive chairman and chief creative officer. Since then, the 42-year-old has shaken up management ranks, cut jobs and shuttered stores.
SEE ALSO: Banana Republic head departs, GAP CEO steps up
He has also vowed to get products through Ralph Lauren's supply chain in nine months, down from 15 months. The idea was to mimic H&M's quick reaction to fashion trends. The company also refocused on its three core brands — Ralph Lauren, Polo and Lauren — and began working on improving its online experience.
The surprise split followed discord about how to reinvigorate the 50-year-old brand, which was a standard bearer for preppy style in the '80s and '90s. In recent years, the company has suffered from heavy discounting and an overreliance on the beleaguered department-store industry. It also has an aging customer base and no clear way to appeal to more millennial shoppers.
Ralph Lauren, 77, said he and Larsson ultimately couldn't agree on the creative direction to take the business.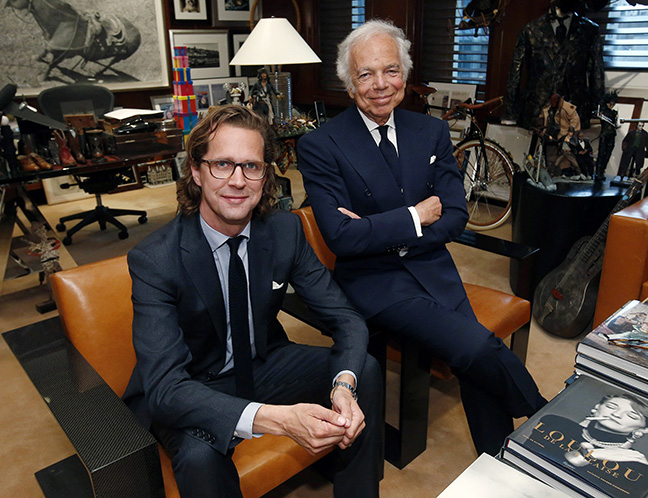 Stefan Larsson and Ralph Lauren
"We both recognize the need to evolve. However, we have found that we have different views on how to evolve the creative and consumer-facing parts of the business," Lauren said in the statement. "After many conversations with one another, and our board of directors, we have agreed to part ways."
The news sent the shares down as much as 11 percent to $77.50 in New York on Thursday. The stock had already fallen 22 percent in the past 12 months as investors remained uncertain about Larsson's turnaround plan.