It all started with a few students from Nanjing University who decided to break away from the monotony of being single for one day.
SEE ALSO :Alibaba to take 11.11 shopping event global in 2018
They chose 11.11 because of the solitary implications of the number 1 which symbolize being single.
However, this simple celebration turned into one of the largest shopping days in the world.
It turns out that this event gained great interest also in Southeast Asia.
According to Google, in Philippines the popularity of Singles' Day has increased more than four times in the last five years.
Who's taking part in Singles' Day? What are the behaviours of consumers on that day? 
Shopping therapy for the young and lonely
So, who exactly takes part in Singles' Day?
57% are actually women.
In accordance with the event's name, three out of four consumers are single.
Of course, not only singles went on a shopping spree.
An increase in interest, although not as significant as among singles, can also be noted in the group of people in relationships.
The interest in Singles' Day is especially apparent among young Filipinos.
Compared to a regular day, the number of transactions on Singles' Day among people aged 18-24 grew by 1022%.
However, getting great discounts is not restricted to younger people as there is a noticeable interest in this shopping festival among all age groups.
The day for singles to indulge themselves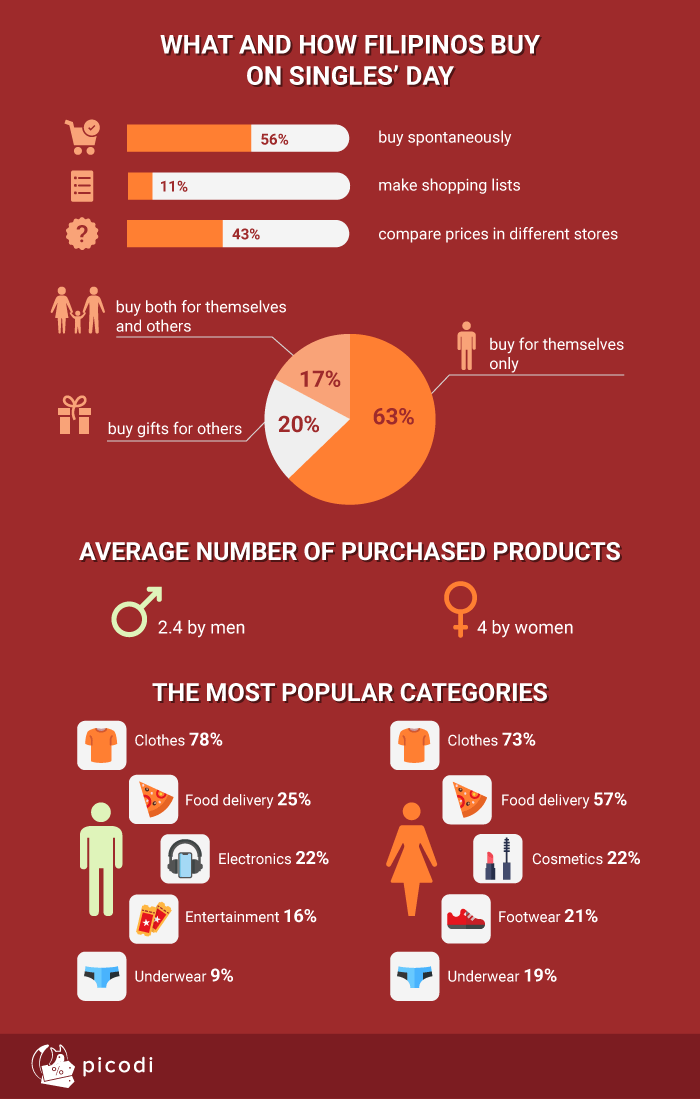 More than half of Filipinos do not prepare for the Singles' Day shopping craze but buy impulsively on that day.
43% compare the prices in different stores while 11% make lists before shopping.
It looks like most people treat 11.11 as an occasion to meet their desires rather than an opportunity to execute a well-thought-out shopping plan.
On top of that, more than 60% of consumers buy things just for themselves and only one-third buy gifts for other people on that day.
An average man buys less than an average woman—2.4 and 4 products respectively.
The most desirable items among men are clothes, delivery food and electronics. Similarly, women buy mostly clothes, delivery food and cosmetics.
Shopping fever in the middle of the day
It's not surprising that Filipinos buy more than usual on Singles' Day.
The number of online transactions increased significantly with 970% more purchases compared to a regular day.
On average, a Filipino is willing to spend 3050 PHP on a Singles' Day shopping spree and sales reached a peak right in the middle of the day, at 1 PM.
Mobile users far behind
70% of consumers use desktops when doing their shopping on Singles' Day.
Only 26% of Filipinos make their purchases on mobile phones.
Most of the transactions are made on Apple devices, followed by Samsung, OPPO, Asus and Huawei appliances.